I knew this would become a series...

Right after having surgery on his hand last week, Terrell Owens confessed to Dan Le Batard that he wished that it would have been him instead of Antonio Romo losing the ball and costing the Cowboys a playoff win. Owens said that not only did he just feel really bad for Romo, Terrell expressed that he would've been better able to play martyr and shoulder the scorn that comes from botching such a critical play. Why did bad things happen to good people, he wondered. Well, I thought that was a nice thing for Terrell to say, so I reward Terrell with more free advice. Yay for Terrell!

Last week, Terrell Owens finally fired his publicist, Kim Etheredge. I'm glad he finally realized that he could do better. Etheredge made her first mistake when she called 911. Unless Owens was not breathing, bleeding or unconscious, Etheredge, acting as his representative with his business interests in mind, should have tried to get Terrell care in a much more discreet manner. She should've tried to transport him to a hospital herself. She could have gotten a neighbor or a doorman to help her. She could've even waited a few minutes for a friend or teammate to come over. But calling 911 should have been her last resort. As we all know, 911 calls are public record. And once things go public, you lose control of the situation. And as his publicist, Etheredge's job is control his image. By calling 911, she lost control and made an unforgivable mistake.

And, of all things, Kim managed to link Terrell to a suicide attempt. Suicide ranks just under amputation as the ailment most likely to take money out of Terrell's pocket. You can't put that genie back in the bottle. Teams, fans, etc. are always going to wonder whether he did it and whether he's mentally and emotionally strong and stable (okay, everybody already wonders that). And then to top it all off, Etheredge couldn't even manage to make the media feel sorry for Terrell this season. If you can't leverage a suicide attempt into some compassionate media coverage, I just don't know what you're doing.

Reportedly, Etheredge and Owens disagreed over Terrell's participation in interviews with Michael Irvin on ESPN and Deion Sanders on NFL Network. Ironically, Etheredge didn't realize that the loyalty Owens was showing by granting interviews to his homeboys, Irvin and Sanders, was the same loyalty he was showing to Etherednge by keeping her on the job.

So when Owens selects his next publicist, he should try to find someone who is committed to and skilled at balancing his image. Note that I didn't say change his image. I don't think he should change. However, Terrell should become more adept at showing more sides of himself in public. Being show-me, brash and controversial is only going to get you so far. He's got to plan for his next career. And by controlling his image, he will consequently control the options he has available to him after football. The children's book was a good first step. I think he should also try to repair his relationship with certain members of the media. Only having Michael Irvin and Deion Sanders defending you won't persuade many viewers to jump on the Team Owens bandwagon. Owens should make nice with the smarter, fairer ESPN personalities and writers like Dan Patrick, John Clayton and Michael Wilbon. That way we wouldn't have to listen to "Terrell Owens is an asshole" stories all day long. Only half the day. That would be welcome progress.

And Owens shouldn't worry about all those "will T.O. come back to Dallas" stories ESPN is forcing every program to openly ponder. Owens has a nice sized ($3 million) roster bonus owing to him, but other than that, his future in Dallas is all good. I have proof:




The owner loves him (drama and productivity).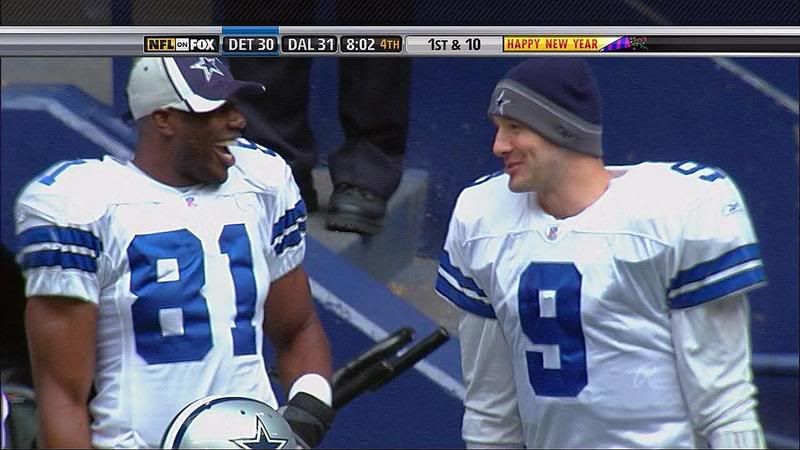 Antonio Romo needs his favorite receiver to help him continue to develop as a quarterback.





And the Dallas fans love him too. And when Terrell gets control of his image with the help of some competent professionals, maybe the rest of football can show him a little love too.