Well, these mofos dressed like their lives depended on it during NBA All-Star Weekend. This is going to be a long ass post.

Did Stuart Scott attend All Star with pink eye? Nasty.




The New Balance of a champion. The bloody knee of Dick Bavetta




Craig Sager dresses like a clown and pays handsomely for the privilege. He "bragged" that he was wearing Brioni jackets and Pucci ties.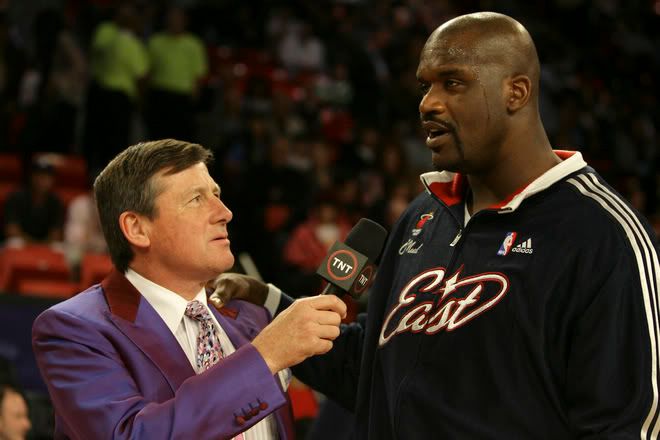 Cheryl Miller looks slightly less of a hot mess than usual




Wait... I spoke too soon.




At least, Reggie Miller recovers in this smart camel blazer with a curved seam chest pocket with an inverted pleat.




Stuart Scott continues to take his old man in the club act around the country, this time featuring Three 6 Mafia.




I loved the All Star warmups. The textured collars, the name embroidered on right chest in script. They looked so well made and luxurious. I was partial to the red and gold West versions.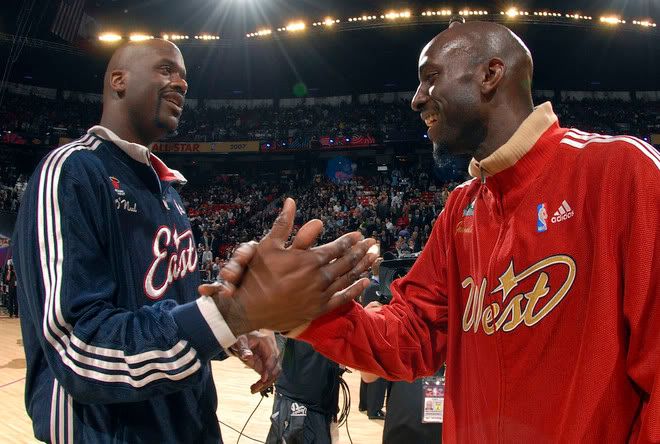 Alonzo Mourning is perfection in velvet.




Lebron had fancy shoes for the festivities.




And a battery powered hat...




But Shaq had slot machine shoes. Vince tries to make some extra money. Shout out to Shaunie rocking the blond hair!




Murse alert! I do not approve of man purses. Especially when you're already carrying a bag. That's just ridiculous. Dwyane, Rip and Lebron are victimes. (And with the same bag!)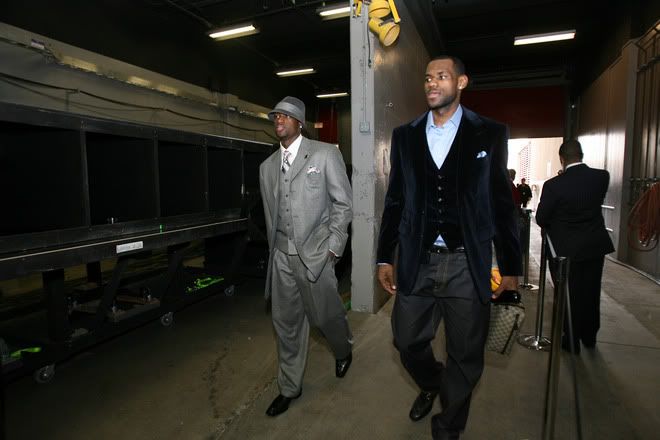 NBA First Lady in Waiting Eva Longoria sported shorts as a wardrobe theme.




Don't leave your girl roun' Prince, Tony. He's tiny, but powerful.




Michael Jordan's leather. You saw it during the slam dunk contest, but he sported the same jacket all weekend in different colors. It's an interesting look. Tailored leather with shoulder pads and fabric covered buttons. Easily costing around $2,000. I guess Mike wanted to stand out with his casual, rich boy look.




Barry Bonds goes out on a date with his wife, Liz, and not Arsenio Hall.




Tracy McGrady looks a hot ass mess.




Terrell Owens and Amare Stoudemire. Amare in a too small t-shirt with a suggestive message that maybe John Amaechi would appreciate. T.O. dressed like he's at the beach.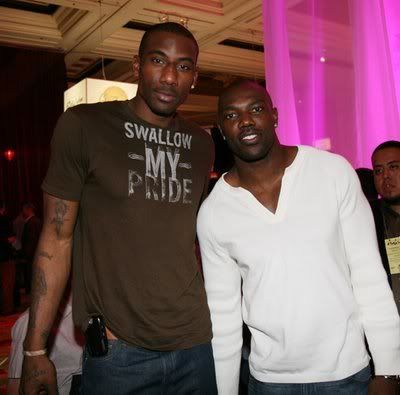 Here's your dignity back, T.O. This is actually a cool picture.




Toni Braxton wants you to see her stuff. Go ahead and look.




Pleats were not Mary J. Blige's friend.




J.R. Smith of the Denver Nuggets preparing for an evening of adultery with Beyonce's married sister, Solange.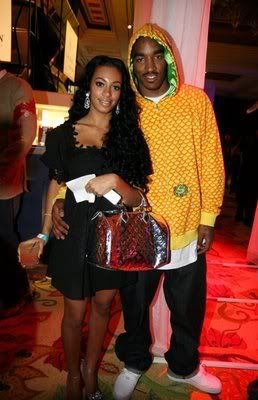 Carmelo Anthony is not afraid of prints.




Shaq had a secret agent briefcase. And he was proud. (And he has a shoe valet who looks less than excited to be doing his job.)




Kobe walks with his wife, who dresses like a life size barbie.




Vanessa still dresses like a 16 year old girl. Too bad she has no friends. If she did, they wouldn't let her dress like she was going to the mall with her boyfriend.




Lebron gets his vintage Michael Jackson on with his girl, Savannah




Kevin Garnett steps casual up a notch with a pocket square to match his shirt




Vince Carter almost slam dunked it with the crewneck and camel two button suit. These are lines a tall man can get away with it. But the gucci shoes are too casual.




Damon Jones promised 4 special oufits this weekend. This was the only one I saw. I'm disappointed.




And, just because... Odd trio of the year. Ludacris, Dave Chappelle and Prince