Adam "Pacman" Jones is a thug transcended. Apparently, no longer a football player, a gifted athlete or an ordinary young man. Just a thug. Easily identified by his mug shot.

That must have been why the producers of SportsCenter thought it was appropriate to use Pacman's photo from his recent booking in Las Vegas as his official chyron photo.

Here is Pacman's booking photo.




The following screen grab shows that ESPN immediately "updated" Jones' official photo.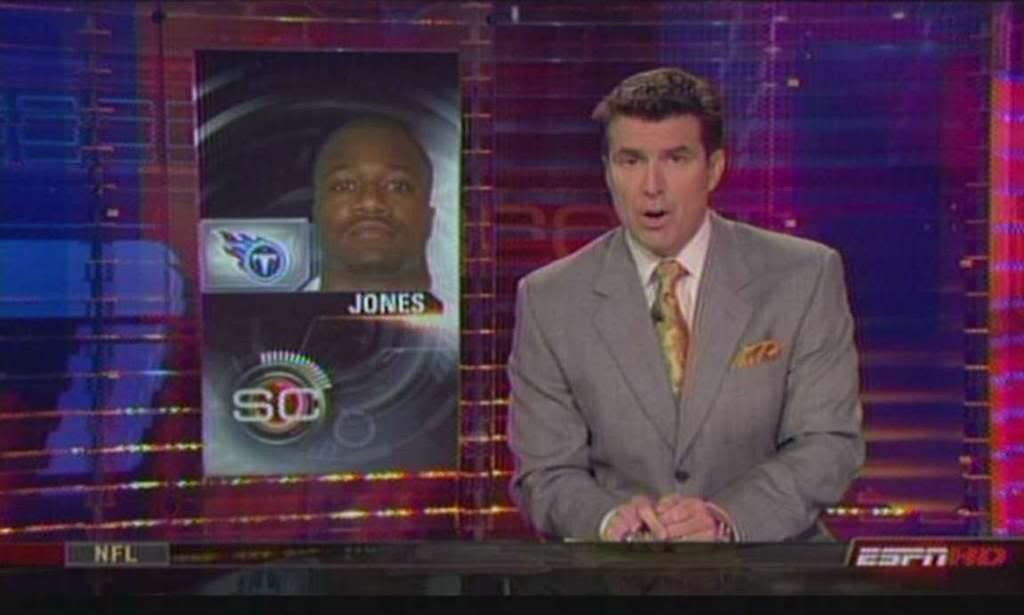 Here is his official Tennessee Titans team photo for additional reference.




It is beyond reprehensible for ESPN to use Jones' booking photo to identify him generally. Using the booking photo coupled with the Tennessee Titans logo, as if it was Jones' "official" photo, visually insinuates and reinforces that Pacman is a criminal, when in fact his "record" has no convictions. Even the urgency to show Pacman's new hairstyle should not take precedent over ESPN's imperative to deliver responsibly produced news and images to its viewers. ESPN could've easily digitally manipulated a more appropriate photo (like they regularly do to jerseys, helmets and hats when players change teams) if the network wanted to show Jones' current hairstyle.

Impartiality aside, ESPN has nothing but incentive to promote the image of the notorious Pacman Jones. Adam Jones is hardly that interesting as a personality. He doesn't talk much and he is not generally captivating. Still, ESPN does not hesitate to make sure their viewers get to see Jones entering a Las Vegas police station via some extremely uninteresting and poorly shot video of what could be any guy walking into a building. Adam Jones clearly has more encounters with the law than the average guy, but it's hardly as if ESPN is on the trail of a serial killer. There is no reasonable purpose for ESPN's excessive coverage of Adam Jones. He is just the thug of the moment and ESPN is happy to traffic in destructive imagery as it suits them.

But it's not surprising that ESPN is drunk with power. They have made Jones a star. He used to be just another talented and up and coming NFLer. Adam was known before, but Pacman is a household name. ESPN seemingly has no qualms about perpetuating Jones' thug image. No matter whether its coverage generally disservices its viewership or shows a lack of sensitivity toward Jones' safety and livelihood by glamorizing him as a potential target. No qualms at all. 'Pac always claimed there was love for a thug. Pacman is not feeling it.