I want to give a big shout out to Kenny Smith. Kenny has stepped up his fashion game tremendously this season and I have been remiss in not giving him more attention. Kenny used to be a "don't" when it came to dressing above the waist. He wore huge shoulder pads in his suit and dressed way too big for his frame. In real life, standing up, this look probably was okay because Kenny is tall. But... When you're at the desk, you have to dress for the desk. Kenny was always swimming in his suit. But this season, Kenny tightened up. He lost the shoulder pads, adopting a slimmer cut for his suits that is more appropriate for his above the waist frame. And.. he adopted a fashion gimmick. And fashion gimmicks are what separates the amateurs from the pros. Kenny's fashion gimmick is edgestitching. Frequently, the lapels on Kenny's suits feature stitching on the edge in a contrasting color. It's a very nice and unique detail and it allows Kenny to stand out while still remaining somewhat conservative in his dress. Wipe the man down. Head, chest, pants, shoes. Kenny's definitely on.





But speaking of Kenny, it seems he has a fashion foil. And his name is Jon Barry.


(It is faint in the pic, but this is the offending suit where Jon sports Kenny's edgestitching. And, yeah, so is Kenny's edgestiching above. It's not my fault that broadcasting and desktop technology don't converge so I can procure a proper HD screen cap.) Jon has just out and out stolen Kenny's fashion gimmick. Right after TNT concludes its season, Jon shows up on ABC sporting Kenny's edgestitching gimmick. You can not steal another man's fashion gimmick!!! That's like a woman knowingly showing up wearing another woman's dress. Now that Michael Irvin is gone, will Jon sport the jumbo tie knot? Deion's collar trim? Boooooo, orange-skinned bald man! (Stop getting mystic tan tips from Eva.)

Drew Gooden has been sporting an odd patch of hair on the back of his shaven head. He claims it is a "duck patch." I've also heard it called a "hyphy patch", something that's popular in the Bay Area. Guess what, Bay Area folk? Leave country styles to country folk. I vehemently deny that Drew's patch is an authentic duck patch. An authentic duck patch protrudes like a duck bill. Hence the name. I don't know if Drew's hair is too straight to protrude or if he is just confused. He does not have a duck patch. I don't know what that stray hair is. Below is Drew's hair and an authentic "duck", sported by one Ralph Tresvant (yeah, it's fuzzy, but it's from 1983, dammit. Watch "Cool It Now" for reference.)





On to the rest...

LeBron continues his fascination with the eighties. Was he saving this polo sweater from back in the day, waiting for this to come back in style?




Damon Jones actually looks quite nice here.




This is a very luxe camp shirt with some very progressive lines. The sleeves are short, but long. The length of the shirt is also extra long and designed to be worn untucked. And it's also wrinkle free. It reminds me of the female long tunic trend, but I don't mean it in a bad way. Since Damon isn't playing much, I'm glad he's putting his free time to positive use.

Rasheed Wallace represents for the leisure suit, the seemingly exclusive domain of the basketball player. And the Geico cavemen, judging by that unkept facial hair.




Chris Paul goes traditional, yet modern in a daring plaid as he sits courtside.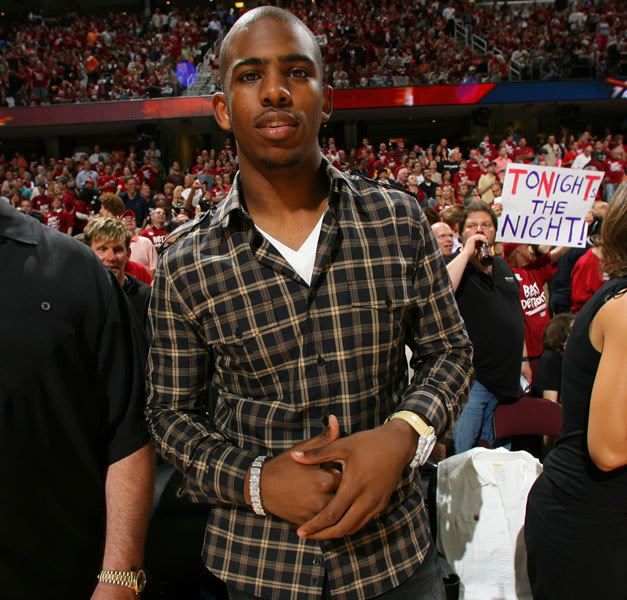 Carlos Boozer does spring nicely.




Charles Barkley wore a Mavs jersey in shame. Shame!




Mehmet Okur uses his tongue as an accessory. Why not cufflinks?



And just for kicks, let's just pick on Craig Sager. Even if he is wearing Brioni or Versace or something other sick brand.




Lavender!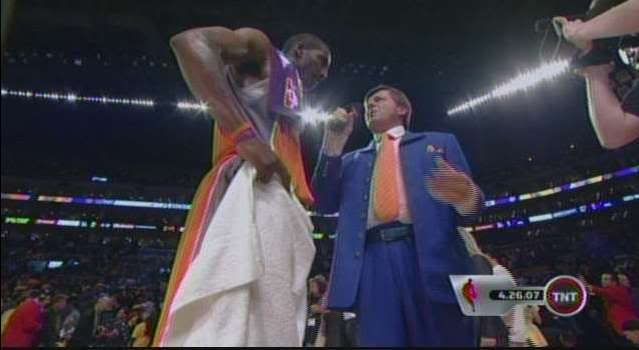 Denver Broncos colors!

Bonus coverage: Is there anything that's more firmly entrenched in the "always uncomfortable" category than a Black man compared in any way with an animal? Ick. Still, Chad Johnson sported a bold and flashy ensemble for his "race" with a horse. Should I be happy that Chad won?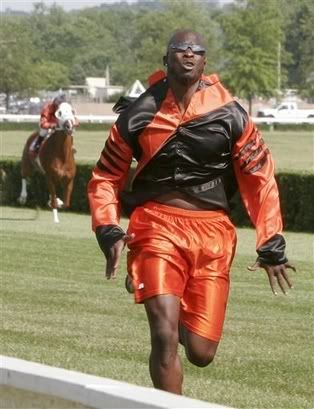 Extra bonus coverage: Well, actually, Serena's not wearing much, so I think this is where my commentary ends.




See you soon for the sports fashion holy grail, the NBA Draft.