David Beckham likes to play dress up. I don't mind at all.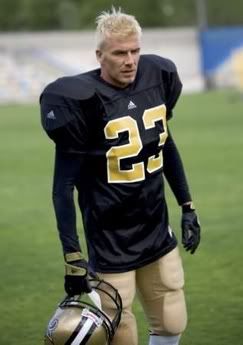 I think Reggie Bush was at the filming of the Nike commercial where he and Beckham switch sports AND he was wearing eye black (the DEFINITIVE post on eye black), but I was distracted by Beckham's ice blonde hair and steely glare.

I'm going through a soccer phase now. Lozo might label me a mere GSF for this, but fuck him and the PATH train he rode in on.

Pretend that Bobby Boswell is not wearing that shirt, but DC United puts YouTube to good use to analyze hats. I'm not mad.